Designed for users never expected to regain use of their hands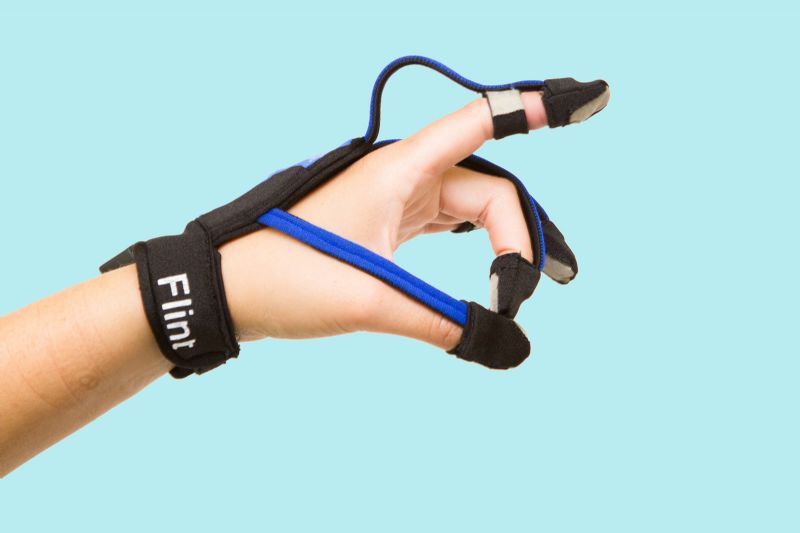 When returning home from a hospital stay, many stroke patients do not comply with the hand rehabilitation exercises prescribed for them.
Clearly, it's not because they don't want to regain use of their hand – it's just that the exercises are mind-numbingly monotonous, and they soon give up.
Nizan Friedman, founder of Flint Rehabilitation Devices, set out to correct this problem. He dreamt up the idea of the MusicGlove while pursuing his PhD in biomedical engineering at the University of California at Irvine.
As a musician, Friedman's intent was to combine music therapy and robotics. On his team were David Reinkensmeyer, a rehabilitation robotics expert, and Mark Bachman, a sensor expert and fellow musician.
The three soon realized a robotic hand would be too expensive, so they came up with the idea of using a glove instead. MusicGlove was born, and results were astounding.
"People were trying and crying afterwards," says Friedman. "People who hadn't used their hands in months or even years were suddenly seeing benefit."
How does MusicGlove work?
MusicGlove has fingertip sensors, and plugs into the user's computer or into the Flint tablet. Musical notes are displayed on a touch screen console. The notes are timed to the rhythm of upbeat songs (think Guitar Hero). Then, while wearing the glove, the user completes specific hand and finger movements in time with the notes.
The program tracks accuracy and speed in performing essential motions such as pincer grasp and key pinch grip, and gives the user immediate feedback on their progress.
What makes MusicGlove different?
Several elements set MusicGlove apart from conventional hand rehabilitation therapy.
First and perhaps most importantly, it motivates users to continue with their therapy regimen long enough to see results. Interacting with the computer and listening to music is fun, and provides a purpose for moving the fingers. Patients typically achieve over 2,000 movements in a 45-minute session.
Second, most conventional hand therapy is designed to help open the hand, but does not retrain the brain to use the hand again.
MusicGlove is unique because it's designed to encourage neuroplasticity – the process the brain uses to rewire itself after injury.
The more a user plays MusicGlove games, the better their brain becomes at hand control.
Lastly, MusicGlove can change the way clinicians approach hand therapy. Since the device is highly effective without much direct therapist intervention, clinics can provide other intensive services without increasing staff. Farther, MusicGlove records accurate data that helps set goals and track patient progress.
Who can benefit from using MusicGlove?
MusicGlove is intended for people recovering from stroke, spinal cord injury, and neurologic or muscular injury. Those with cerebral palsy, traumatic brain injury, and developmental disability can also benefit from using MusicGlove.
Patients using MusicGlove must be able to touch their thumb to at least one of their fingertips, although mirror therapy can be used for some patients who have no hand movement at all.
Will Medicare cover MusicGlove?
Currently, Medicare does not cover the cost of restorative technology. Therefore, MusicGlove offers a 30-day money back guarantee so that patients and therapists can be certain it's the right therapy for them.
Also, MusicGlove is FDA approved for purchase without a prescription.
How effective is MusicGlove?
Exercise with MusicGlove has been clinically proven to improve hand function within two weeks, leading to functional gains such as opening doors, typing, toileting independently, and more.
MusicGlove is now used in top rehabilitation programs in the United States, including the Rehabilitation Institute of Chicago and Rancho Los Amigos National Rehabilitation Center. It is backed by the National Institute of Health and the National Institute of Disability and Research Rehabilitation.
What MusicGlove customers are saying
"Could not possibly rate this device highly enough! I had a stroke as an infant, and was a precocious kid who got bored of "traditional" occupational therapy very early in life – so for the past 15 or so years (I'm 24), I haven't done much of anything. After a two week trial of the MusicGlove, I regained independent movement of each finger of my affected hand – which is something I have NEVER had! I find myself using my hand to complete tasks at work, which I've never done either. Needless to say, I purchased the device and am looking forward to the months and years to come! I will sing the praises of the MusicGlove and Flint for the rest of my life for CHANGING MY LIFE and opening so many doors! THANK YOU, THANK YOU, THANK YOU!!!" – Musicglove user review
"My brother had five strokes two months ago and lost the use and feeling on the right side of his body. The first day he used it was fairly disastrous, and he could barely even touch his thumb to his index finger. The next morning he was touching his thumb to each of his fingers over and over – and when we started up the MusicGlove, the difference in one day was amazing. Within the first week using this product, he was feeding himself, holding a pen, and relearning how to write. After 2 months of use, he has mastered each finger individually (being able to hit at least 95% of the notes on the hard setting) and has now started using two fingers simultaneously. I feel like we hit the lottery, having found this rehabilitation tool, and I highly recommend it to anyone trying to recover from a stroke or brain injury that has affected the fine motor skills in their hand! It has exceeded all of our expectations, and given us hope for a full recovery ahead." – Musicglove user review
via MusicGlove: Improve Hand Function in Two Weeks Through Music and Gaming