The outbreak of the Covid-19 (a coronavirus) in the UK means a rocky and uncertain time for many of us, particularly if you have a long-term health condition or disability. To ensure you have the right information to help stay healthy and happy – and avoid being overwhelmed by the unrelenting news – we've collated practical advice you can rely on. We'll be updating it as things progress.
Last update: 6 pm Sunday 29th March.
Disability Horizons is a community magazine built to enable our readers to connect with each other and offer support. This has never been more important than now.
The Disability Horizons team and wider community are here to offer support, advice and a listening ear. None of us are alone. Join us on DHorizons Tribe to connect with others.
How coronavirus spreads and what you can do to minimise it
Covid-19 (part of the coronavirus family, along with SARS) is a new virus, so there isn't yet a full picture of how it spreads. However, it's believed that to be transmitted through droplets, say from someone coughing or sneezing.
Research is being done around the world to understand how long these droplets can remain on surfaces and in the air.
Studies published by the New England Journal of Medicine and the New Institute of Health demonstrate that the virus could survive for up to three days on plastic and stainless-steel surfaces, 24 hours on cardboard and three hours in the air.
This is why it's particularly important for everyone to do the following:
Wash your hands regularly for at least 20 seconds (the time it takes to sing happy birthday twice) using soap and water or hand sanitiser if you're out – the NHS video below shows how to do this properly.
Do not touch your eyes, nose or mouth if your hands are not clean, particularly if you're not at home.
Cough or sneeze into a tissue and throw it away or, if a tissue isn't available, do it into your upper sleeve/elbow.
Keep away from anyone who is unwell and displaying the symptoms of Covid-19 – they should also self-isolate (more on this below).
Keep 2 metres (6 feet) apart from people when out and about or if someone in your house is unwell.
Don't visit your GP in person but instead get over-the-phone appointments.
These measures are called 'social distancing' and apply to everyone. If you're in a 'high risk' group (more on this below), they are even more important.
Coronavirus lockdown
On 23rd March Prime Minister Boris Johnson announced that these measures are now mandatory and that everyone should stay at home where possible.
People should only leave their homes to:
travel to and from work if they absolutely cannot work from home
shop for essentials, such as food and medicine – these should be as infrequent as possible
to exercise once a day but to keep your distance from others you don't live with
to fulfil any medical need, or to provide care or to help a vulnerable person.
All stores selling non-essentials will be closed – see more on this below. It is also now compulsory that people limit their interaction with others, even family and friends, and avoid gatherings, pubs, restaurants, leisure centres and similar venues. Any meetings of more than two people will be disbanded.
If anyone is seen breaking these measures, the police have the power to fine people.
If you're in the 'extremely vulnerable' group (see more on this below) and need help self-isolating, register on the government website for support: gov.uk/coronavirus-extremely-vulnerable. You may be able to get help if you're in a 'high risk' group too.
Using carers/PAs during the coronavirus outbreak
If you use carers/PAs, ask them to wash their hands thoroughly when they enter your home and regularly when performing tasks for you.
As coronavirus can live on surfaces for some time, carers should clean surfaces they have touched, such as door handles and worktops, before they leave.
They should also ideally wear personal protective equipment (PPE) when doing things that bring them in close contact with you, such as bathing and changing.
PPE means disposable plastic gloves, a plastic apron, fluid repellent surgical mask and eye protection when there is a risk of splashing.
These, along with waste from cleaning surfaces they have touched, should be put in a rubbish bag after use and left for 72 hours away from anything else before being thrown into the normal bin.
If you use carers through the council or company, ask them about providing PPE. However, we have heard of instances of stock running low.
If you employ carers yourself, you may need to purchase it yourself or see if your carer can. Make sure that if you shop online for these you use a reputable retailer.
It might also be worth calling your local GP, district nurse, healthcare worker or council to find out if they can help with this.
If they are displaying any symptoms, they shouldn't come to work and should self-isolate at home – see more on this below.
If possible, it would be worth having a list of back-up staff who you can call on if one of our carers becomes unwell. If this isn't an option, or you would like more advice on this, contact your local council for more information.
You and your carers can find more advice on how to work in these circumstances on the Carers UK and government websites.
Coronavirus 'high risk' groups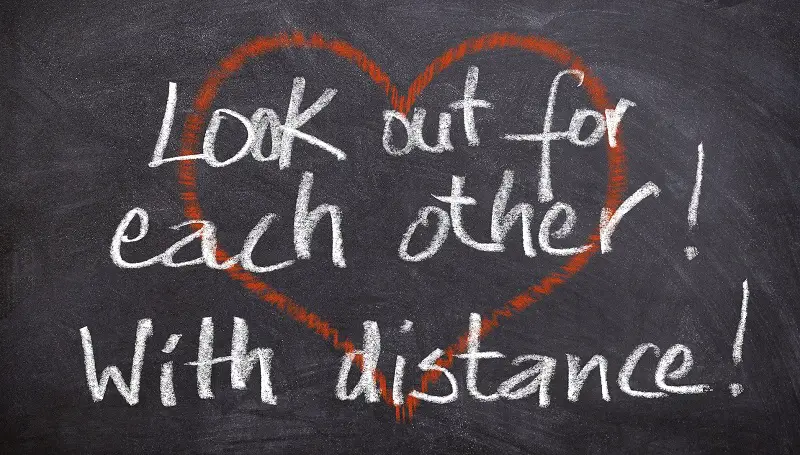 Some people's bodies may find it harder to fight Covid-19 and recover.
This includes those with a long-term health condition, weakened immune system and older people over 70 (the World Health Organisation suggests 60+).
The government has listed the following conditions or situations as ones that would put someone in an 'extremely vulnerable group':
Coronavirus vulnerable groups
Solid organ transplant recipients (treatment for end-stage organ failure of the kidney, liver, pancreas, heart, and lung).
People with specific cancers:

people with cancer who are undergoing active chemotherapy or radical radiotherapy for lung cancer
people with cancers of the blood or bone marrow such as leukaemia, lymphoma or myeloma who are at any stage of treatment
people having immunotherapy or other continuing antibody treatments for cancer
people having other targeted cancer treatments which can affect the immune system, such as protein kinase inhibitors or PARP inhibitors
people who have had bone marrow or stem cell transplants in the last 6 months, or who are still taking immunosuppression drugs

People with severe respiratory conditions including all cystic fibrosis, severe asthma and severe COPD.
People with rare diseases and inborn errors of metabolism that significantly increase the risk of infections (such as SCID, homozygous sickle cell).
People on immunosuppression therapies sufficient to significantly increase the risk of infection.
Women who are pregnant with significant heart disease, congenital or acquired.
From Monday 23rd March 2020, the NHS will be contacting people who are in this 'extremely vulnerable group' with a recommendation to self-isolate for 12 weeks – scroll down for more on self-isolating.
The government website also lists some specific conditions, including disabilities, such as Parkinson's disease, motor neurone disease and multiple sclerosis, that would also put someone at risk.
In these circumstances, the 'social distance' measures mentioned above are particularly important. In the coming weeks, more people may also be asked to fully self-isolate.
Coronavirus symptoms
Coronavirus affects people in different ways and the symptoms might be mild for some. But the main three symptoms people experience are:
a fever/high temperature (above 37.8°C)
dry cough
shortness of breath
Some also experience tiredness, muscle pain and a headache, similar to how you would with flu. Some people have also reported a loss of a sense of smell as a possible symptom.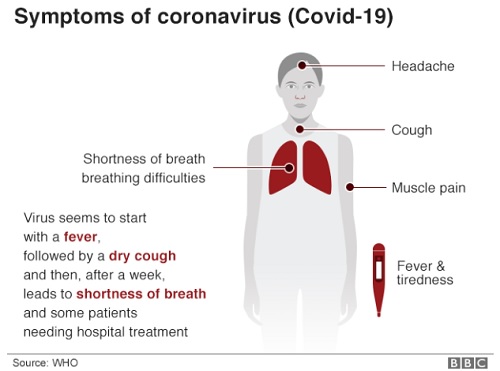 Coronavirus treatment and when to get help
There currently isn't medication to help cure coronavirus, or a vaccine to guard against it. If you become ill, drink plenty of water (so that your urine is clear) and eat as healthily as possible. Take paracetamol as prescribed to help with some of your symptoms.
For now, until more research has been done, experts suggest using paracetamol over ibuprofen. However, if you are already taking ibuprofen or another non-steroidal anti-inflammatory (NSAID) on the advice of a doctor, do not stop taking it without checking first.
The NHS recommends that you seek help with your symptoms if:
you feel you cannot cope at home
your condition gets worse
your symptoms do not get better after 7 days.
Do not go to your GP, pharmacy or hospital as this will risk spreading the virus.
The NHS website has a coronavirus tool that can help you to decide what you should do next. If that doesn't help, call 111 for more information.
If it is a medical emergency, for example the person is unconscious, call 999. Make them aware that it may or is likely to be someone with coronavirus.
Coronavirus quarantine rules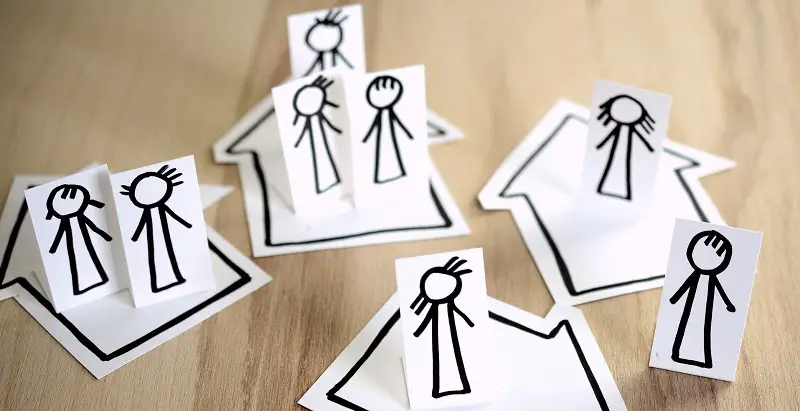 There are a few circumstances where the government has advised you to fully self-isolate, and not just 'socially distance'.
If you have a new continuous cough and/or high temperature and live alone you should stay at home for 7 days from when you first display symptoms. This is regardless of whether you have had a test for coronavirus.
For clarity, a continuous cough means that you have started coughing repeatedly. It also relates to a dry cough.
If you live with others and one person has a new continuous cough and/or high temperature they should stay at home for 7 days, and anyone else in the house for 14 days from when they first display symptoms. This is regardless of whether they have had a test for coronavirus. If someone else in the house then gets these symptoms, the whole house should self-isolate again for 14 days from that point.
If you are in the 'extremely vulnerable group' you will be asked to self-isolate for 12 weeks, regardless of whether you have symptoms. You should receive notice from the NHS or your GP, as a letter or call/text, but Sunday 29th March. You should self-isolate from the day you receive that.
If you're in the 'high-risk group', as listed above, but not the 'extremely vulnerable group', you're only being asked to 'socially distance' at the moment. This may, however, change in the coming weeks. You might want to consider self-isolating measures anyway.
You don't need to inform the authorities, such as GP or NHS if you're self-isolating. Also, because tests for coronavirus are being prioritised for those in hospital, the government isn't currently testing those who self-isolate.
You can see more information about when to self-isolate on the government website, including an illustration to show the rules with self-isolation.
What to do in households where someone is 'high risk' or 'extremely vulnerable'
If you are more at risk or live with someone who is and they are displaying symptoms, ideally see if they can stay elsewhere for the time period.
If that isn't possible, consider getting them to stay in one room out of the way and use common areas they need to, such as the kitchen and bathroom, at separate times. If you are near each other at any point, try to keep 2 metres apart.
Use separate cutlery, towels (hand and bathing) and bathrooms where possible, and sleep in different rooms if you can.
Where you need to share an area, get them to clean surfaces they have touched after each use, such as handles on kitchen cupboards, work surfaces, taps and toilet flushes.
At the moment, if you've been asked to self-isolate for 12 weeks, the government is not requiring anyone else in your household to do the same. However, if you're able to, you and your family might want to do that anyway.
If not, they should practise social distancing measures though, at home and when out. That includes avoiding gatherings and non-essential contact, staying 2 metres away from others and good hygiene.
It's also recommended that you use separate areas of the house, utensils etc, as mentioned above.
There is more guidance on self-isolating for 12 weeks on the government website.
Coronavirus self-isolation: how to do it
If you or your family are self-isolating, you should stay at home at all times. No one should go to work, school or public areas. Do not use public transport or taxis either.
Many non-urgent hospital appointments are being postponed, but you may be able to have essential ones remotely.
Ideally, don't even leave your house to buy essentials and groceries. Instead, plan ahead as much as possible.
If you can, shop or order medication online, or ask relatives or neighbours to do so for you, getting them to leave them outside.
Pharmacies are aiming to allow delivery of prescriptions though someone you nominate, a volunteer found by the pharmacy or the pharmacy itself. You can contact your local pharmacy to find out what the options are.
If you have carers or a local community group, it's worth asking them whether they can support you too. If none of this is possible, a number of organisations and businesses are preparing to help with essentials.
But you can also visit gov.uk/coronavirus-extremely-vulnerable to register for the support that you need. This includes help with food, shopping deliveries and additional care you might need.
You can go out to exercise once a day, but, like with social distancing, ensure you or others in the household keep at a safe distance from others.
As physical fitness is incredibly important, particularly at the moment, it's worth looking at what exercise you can also do at home.
Remember to keep the hygiene measures, such as washing your hands for 20 seconds – particularly if you have had to go out or have ordered something in – and cough or sneeze into a tissue.
More advice on the practicalities of self-isolating can be found on the government and NHS websites.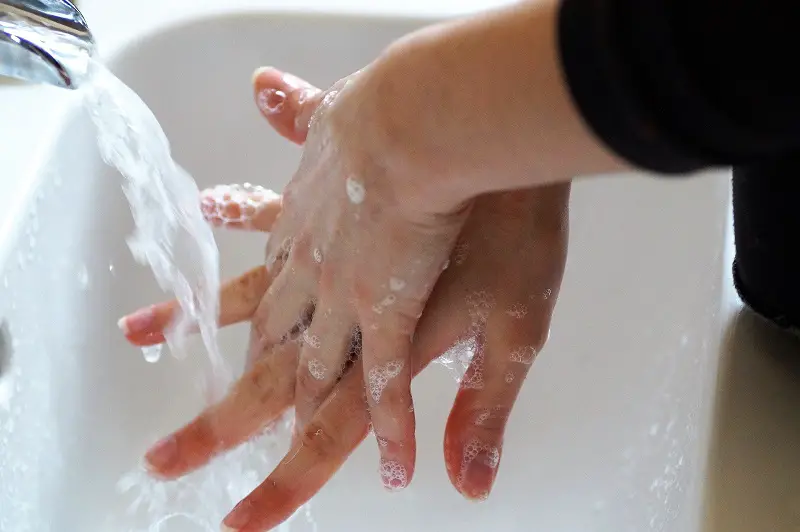 Your working rights and financial help with coronavirus
Everyone has been advised to work from home where possible, so employers should enable you to do so if you can. However, some businesses are now closing, putting some staff out of work.
Here we list a number of scenarios and what help is available.
If you are employed
You are employed but unwell with coronavirus or unable to work due to coronavirus, for example, because you have had to self-isolate or your job doesn't allow you to work from home. In this situation, you will receive Statutory Sick Pay (SSP) from day one of your time off, assuming you're usually entitled to SSP.
If you're ill, you won't need a sick note for the first 7 days, but your employer may ask for one afterwards. If they do, use the NHS 111 service instead of your GP.
If you're self-isolating and your employer requires a letter, you can get a self-isolation note on the NHS website.
It's also worth checking your contract as you may be entitled to more than SSP, particularly if you're self-isolating or unable to work from home.
If you are self-employed
You are self-employed but have lost work due to coronavirus. If this is the case, you can get help through the Income Support Scheme of up to 80% of your trading profits.
To claim, you will need to have submitted your Self Assessment Tax return for 2018-2019, and traded in the year 2019-2020. You can't apply online, but HMRC will be contacting those that are eligible.
Read the government's full guide to the Income Support Scheme understand all of the stipulations.
If you are on other benefits
If you're already getting ESA, your mandatory work search and work availability requirements will be removed while you are affected.
The government will not be conducting face-to-face assessments for sickness and disability benefits for three months from 17th March.
It includes Personal Independence Payment (PIP), those on ESA, some on Universal Credit, and recipients of Industrial Injuries Disablement Benefit. Payments of these will continue to be made until the assessment is possible.
Please be aware that scammers are taking advantage of this situation, so make sure you use reputable sources of information. Citizens Advice has tips on how to spot a coronavirus scam.
You can find out more information about what financial help there is by visiting the government and Citizens Advice websites.
If you're not sure any of the above applies to you or you are concerned about paying bills, the Citizens Advice has a page dedicated to help if you can't pay your bills.
Time off to look after children
As schools are now closed, you'll need to look after your child at home, ensuring they stick to the new 'social distancing' rules. However, school support is available if you are a critical worker, such as a nurse, or your child needs specialist support.
Under current rules, you're are allowed a 'reasonable' amount of time off to look after dependants in an emergency, such as your child being ill.
The length of time is decided by you and your employer, so speak to them as soon as possible about difficulties. Your employer also isn't obliged to pay you for the time.
Coronavirus map and cases in your area
The BBC has a useful tool that helps you to see how many confirmed cases of coronavirus there are in your area.
The government website also has a map of coronavirus cases, where you can also view the counties in order of most affected.
What shops are closed due to coronavirus and what will stay open?
Any non-essential stores and places are now closed, such as clothing, technology and home retailers, hairdressers and places of worship.
Playground and outdoor gyms are closed, but parks will remain open for exercise, although people cannot gather in groups, even with their own family.
The only shops staying open are:
supermarkets and stores selling food, including market stalls
pharmacies and health shops
corner shops, such as newsagents and post offices
food outlets offering food delivery and takeaway services
petrol stations, garages and car rental businesses
bicycle shops
home and hardware shops
launderettes and dry cleaners
pet shops and veterinary services
banks.
Community centres can remain open, but only for the purpose of "hosting essential voluntary or public services" such as food banks or service for homeless people, the guidance says.
Food shopping during the coronavirus outbreak
To avoid issues with panic buying and supplies of essentials dwindling, a number of supermarkets have made changes.
At Sainsbury's for the first hour of opening on a Thursday, only disabled people and those over 70 will be able to shop.
It has also said it's prioritising these customers when it comes to online delivery slots and access to Click and Collect services.
Morrisons has set up a phone line for those who can't order online and is launching 'simple-to-order food packages' to help ensure people have essentials.
Tesco is now allowing shoppers to book more than one delivery slot at a time so that people can plan ahead.
In-store, older and 'vulnerable' people can shop alone from 9 am till 10 am in all but its Express stores. In addition, Tesco stores that currently open 24 hours will be reduced to 6 am to 10 pm to allow stores to replenish goods.
Marks and Spencers has set aside the first hour stores are open on Mondays and Thursdays for 'vulnerable' and older customers.
At Waitrose, the first hour of opening will be dedicated to older and 'vulnerable' people. It has also said that it's looking to offer its services remotely.
Co-op stores across the UK now have a shopping hour for 'vulnerable customers', carers and NHS workers from 8 am to 9 am Monday to Saturday and from 10 am to 11 am on Sundays.
Most of the big supermarkets are now only allowing a certain number of customers into stores at once so that they can social distance. Those waiting outside are being told to stand two metres apart.
All the supermarkets have placed restrictions on how many items people can buy at once, in-store and online, where applicable.
If you have a disability or long-term health condition that isn't obvious, we recommend getting a sunflower lanyard to wear. The lanyards are recognised by many of the major supermarkets and are a sign to supermarket staff that you have a hidden disability.
Get support and advice
We're going to be running regular virtual meetups in our closed DHorizons Tribe Facebook group so that you can connect with others, share tips, get advice and support each other.
Our second will be this Friday 27th March at 12pm. We'll be discussing how to self-isolate, sharing tips and experiences.
We will also continue to bring you our usual positive, entertaining and interesting articles as a welcome break from the negativity.
Further reading on coronavirus