Posts Tagged diffusion MRI (dMRI)
Stroke is a leading cause of disability worldwide. Motor impairments occur in most of the patients with stroke in the acute phase and contribute substantially to disability. Diffusion tensor imaging (DTI) biomarkers such as fractional anisotropy (FA) measured at an early phase after stroke have emerged as potential predictors of motor recovery. In this narrative review, we: (1) review key concepts of diffusion MRI (dMRI); (2) present an overview of state-of-art methodological aspects of data collection, analysis and reporting; and (3) critically review challenges of DTI in stroke as well as results of studies that investigated the correlation between DTI metrics within the corticospinal tract and motor outcomes at different stages after stroke. We reviewed studies published between January, 2008 and December, 2018, that reported correlations between DTI metrics collected within the first 24 h (hyperacute), 2–7 days (acute), and >7–90 days (early subacute) after stroke. Nineteen studies were included. Our review shows that there is no consensus about gold standards for DTI data collection or processing. We found great methodological differences across studies that evaluated DTI metrics within the corticospinal tract. Despite heterogeneity in stroke lesions and analysis approaches, the majority of studies reported significant correlations between DTI biomarkers and motor impairments. It remains to be determined whether DTI results could enhance the predictive value of motor disability models based on clinical and neurophysiological variables.
Introduction
Stroke is the second cause of death and the third leading cause of loss of DALYs (Disability-Adjusted Life Years) worldwide. Despite substantial advances in prevention and treatment, the global burden of this condition remains massive (1). In ischemic stroke (IS; 80–85% of the cases), hypoperfusion leads to cell death and tissue loss while in hemorrhagic stroke (HS), primary injury derives from hematoma formation and secondary injury, from a cascade of events resulting in edema and cellular death (2). In IS, cytotoxic edema is a result of glucose and oxygen deprivation, leading to a failure of ion pumps in the cell membranes and consequently to collapse of osmotic regulation, when water shifts from the extracellular to the intracellular compartment (3). In HS, heme degradation products are the primary cytotoxic event and secondarily, an inflammatory process based on degradation of the hematoma takes place (4).
Diffusion MRI (dMRI) is a powerful diagnostic tool in acute IS (5) and is widely used in clinical practice (6). dMRI sequences are sensitive to water displacement. Acute infarcts appear hyperintense on diffusion-weighted imaging (DWI) reflecting the decrease in the apparent diffusion coefficient of water molecules. DWI can be acquired and interpreted over a few minutes. It provides key information for eligibility to reperfusion therapies from 6 to 24 h after onset of symptoms (DAWN study) (7) and in wake-up strokes (8). A search on MEDLINE using the terms "stroke" and "diffusion MRI" yielded 1 article in 1991 and 279, in 2018. Diffusion tensor imaging (DTI) involves more complex post-processing, mathematical modeling of the DW signal (9) and provides measures associated with white matter (WM) microstructural properties (10).
Stroke can directly injure WM tracts and also lead to Wallerian degeneration, the anterograde distal degeneration of injured axons accompanied by demyelination (11). DTI metrics have been studied as biomarkers of recovery or responsiveness to rehabilitation interventions (12–14). The bulk of DTI studies addressed specifically the corticospinal tract (CST), crucial for motor performance or recovery (12, 15), and frequently affected by stroke lesions. Paresis occurs in the majority of the subjects in the acute phase and contributes substantially to disability (16). It is thus understandable that the CST is in the spotlight of research in the field.
Two meta-analyses included from six to eight studies and reported strong correlations between DTI metrics and upper-limb motor recovery in IS and HS (17, 18). In both meta-analyses, heterogeneity between the studies was moderate. In addition, the quality of the evidence of DTI as a predictor of motor recovery was considered only moderate by a systematic review of potential biomarkers (19). The main limitations of the reviewed studies were the lack of cross-validation and evaluation of minimal clinically important differences for motor outcomes as well as the small sample sizes. Heterogeneity in DTI data collection and analysis strategies may also contribute to inconsistencies and hinder comparisons between studies.
In this narrative review, first we review the key concepts of dMRI. Second, we present an overview of state-of-art methodological practices in DTI processing. Third, we critically review challenges of DTI in stroke and results of studies that investigated the correlation between DTI metrics in the CST and motor outcomes at different stages after stroke, according to recommendations of the Stroke Recovery and Rehabilitation Roundtable taskforce (20).
Concepts of Diffusion MRI
Different MRI paradigms address WM qualitatively and quantitatively (i.e., volume, contrast as signal hyperintensities), but only dMRI allows indirect inferences about WM microstructure by providing information about the underlying organization of the tissue. In regions of little restriction of water displacement (such as the ventricles), water molecules tend to move almost freely (randomly). On the other hand, within tracts, the environment tends to be organized within sets of axons aligned in parallel orientation. Water movement usually follows a specific orientation near axons compactly organized and constrained by the myelin packing (21).
The diffusion tensor is the most commonly used mathematical modeling of the diffusion signal and can be decomposed into its eigenvalues (λ) and eigenvectors (ε), required to characterize the signal of water displacement within a voxel. Each eigenvector represents an axis of dominant diffusion with the magnitude of diffusion determined by the corresponding eigenvalues. If the diffusion is isotropic (the same along each orientation), then the eigenvalues have approximately the same magnitude (λ1 ≈ λ2 ≈ λ3), which can be depicted by a sphere. By contrast, if there is a preferential orientation of the diffusion, then the first eigenvalue is bigger than the other two, which can be visualized typically by an ellipsoid (λ1 >> λ2, λ3) (Figure 1).
FIGURE 1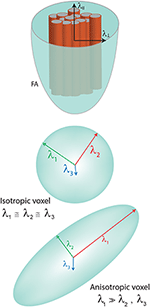 Figure 1. Model of the tensor showing the eingenvalues. Diffusivities are depicted in FA representation (λll—parallel or axial diffusivity—AD, λ⊥perpendicular or radial diffusivity—RD).
Hence, the tensor calculation is typically based on a 3 × 3 symmetric matrix, in which the eigenvalues derived from each combination of directions provide different metrics. At least one b0 (non-diffusion-weighted) and 6 non-collinear directions of diffusion-weighted acquisitions are required to minimally describe water displacement with DTI (10). Generally, the more directions, the better.
The most widely used DTI metrics are: fractional anisotropy (FA), mean diffusivity (MD), radial diffusivity (RD), and axial diffusivity (AD). FA describes the degree of anisotropy (represented as an ellipsoid), a value between 0 (isotropic) and 1 (the most anisotropic). Anisotropy tends to increase in the presence of highly oriented fibers (Figure 1). The biggest value is supposed to be found in the center of the tracts. In particular, for CST analysis in stroke or other focal brain lesions, FA results can be reported as ratios between FA extracted from the ipsilesional and the contralesional hemispheres (rFA = FA ipsilesional/FA contralesional). Alternatively, asymmetry in FA can be described (aFA = (FA ipsilesional – FA contralesional)/(FA ipsilesional + FA contralesional).
MD describes the magnitude of diffusion and the biggest value is supposed to be found in the ventricles. RD represents the average diffusivity perpendicular to the first eigenvector and AD is the first eigenvalue (λ1) representing the diffusivity along the dominant diffusion direction.
Many studies have focused exclusively on FA. The proper interpretation of FA often demands knowledge about results of the other three DTI metrics (22). Changes in anisotropy may reflect several biological underpinnings, such as axonal packing density, axonal diameter, myelinization, neurite density, and orientation distribution (21, 23). FA can be decreased in conditions that injure the WM but also when multiple crossing fibers are present in the voxel. In case of partial volume effects, both FA and MD may be altered (24, 25).[…]
Continue —>
https://www.frontiersin.org/articles/10.3389/fneur.2019.00445/full