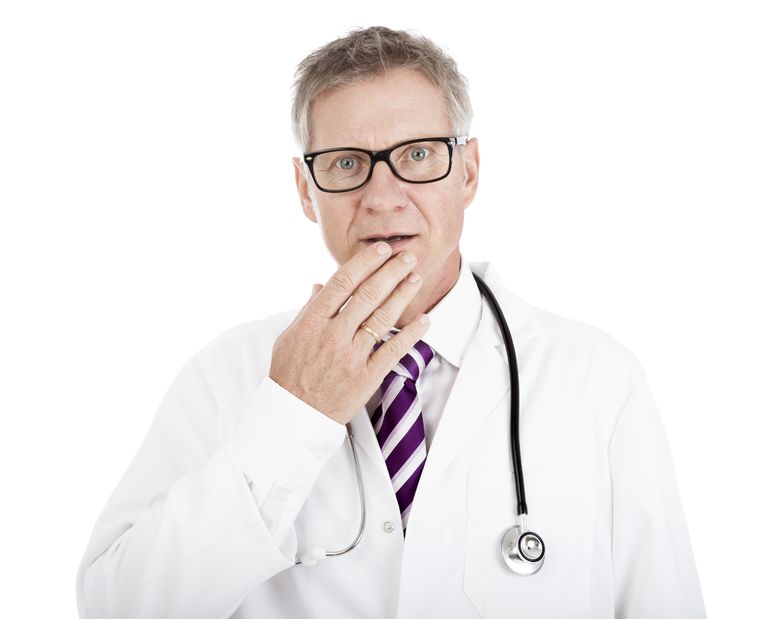 After my traumatic brain injury (TBI), a trauma doctor, a neurologist, and a brain surgeon watched over me while I was in the ICU and trauma wing of the hospital. I am extremely grateful for their help during that fragile and scary experience. However, when I left the hospital, they largely left me in the dark regarding traumatic brain injury recovery.
With help from others (mostly my mom) I was able to connect with resources to help me face the challenges I was having. Lo and behold my challenges were very common for TBI survivors. I had no idea that other people were facing the same thing.
I wish my doctors would have prepped me better for what life is like after a TBI. If you are new to the journey of at TBI survivor (or still trying to figure things out), here are 10 things I wish the doctors would have told me about traumatic brain injury recovery before I left the hospital.
1. No Two TBI's Are the Same
Even when people have similar challenges as a result of their injury, the speed of a recovery, how much a person recovers (50%, 70%, or 90%), which medication can help resolve symptoms (if it works at all), and many other factors vary widely from person to person. You can't see a person who recovered 100% and say "that will be me". You also can't see someone who faces significant challenges after a long period of time and think that you will not make any improvement.
2. There Are Groups with Resources to Help TBI Survivors and Caregivers
Lots of them. In the US, the Brain Injury Association of America is a great resource with branches in many states. The branch in California put me in touch with a doctor that really helped me. Another good resource are hospitals. They often host support groups for TBI survivors and their families. If not, they will be aware of the groups that do meet in your area.
Please take advantage of these groups! Everything changes so much for everyone involved, especially the relationships between them. The support groups give you a place to vent your frustrations and get support from other people walking the TBI road.
For some help with exploring the new relationships, I've written two articles, one for survivors, and one for family & friends that highlight some of the big changes and give ideas for addressing them.
3. There Are Some Very Common Deficits after a TBI
Since a TBI affects your brain, it can ripple into every part of your life. Some of it also depends on the part of the brain that is affected. Nevertheless, here are some common ways that at TBI shows up:
Memory problems, especially short term memory
Bad temper/mood swings
Balance
Visual processing
Motor control
Depression
Anxiety
If you are experiencing any (or several of) these effects after your TBI, know that it's completely normal for TBI survivors. If you have any doubt about that, go to a TBI support group. You WILL find survivors there who will offer you encouragement because they dealt (or are dealing) with the same thing.
4. There is No Time Threshold for Recovery
The medical opinion used to say that said your recovery will happen within two years. It also said that whatever abilities haven't returned by then will never come back. Some doctors who don't specialize in traumatic brain injury recovery, continue perpetuating that myth. Over the last several years, doctors have found that our brains are capable of learning indefinitely after a brain injury.
I can tell you from my own experience that this seems to be true. My accident was nearly 6 years ago. Although my recovery was the fastest in the first two years, I still feel and observe occasional improvements in different things. Another example is of a woman I met recently at TBI support who is starting to learn to walk again. Her injury happened 13 years ago and has been confined to a wheelchair since then. It's a long road. Don't give up. Keep working at it.
5. Spend Some Time Investigating Alternative Approaches to Dealing with Your Symptoms
Medication did provide the biggest breakthrough to controlling my temper after my injury. However, I wanted to explore additional options to cope with it. I found exercising to be very helpful. Mindfulness meditation also provided some help. I still use both of these strategies on a regular basis. I haven't used it myself, but some people in support groups mention that aromatherapy helps them. Explore the different options and listen to your mind and body to see what works best for you.
6. BEWARE of Overstimulation
Yes, I put beware in all caps. This is a big deal. I can't believe that no one mentioned this to me when I left the hospital after my injury. Many TBI challenges are made worse once your brain is maxed out. An injured brain's tolerance for stimulation is much lower than a brain that is not injured. Remember any outside input is stimulation.
For me, by biggest challenges were on my phone. Too much social media, YouTube, and too many games. I also watched to much TV. The stimulation from those activities accelerated me reaching my threshold. Once I maxed out, I became more irritable, had a harder time focusing on important tasks, and had a harder time remembering stuff. Give your brain the down time it needs to recover. Over time you will likely be able to tolerate more outside stimuli. But at the beginning, take it easy.
7. Balance Pushing Yourself and Allowing Down Time
I firmly believe that getting back to work quickly helped me recover as much as I did. However, in retrospect, I might have done it differently. For the first 6 months I didn't know I needed to beware of overstimulation, so I would work like I was operating at 100%. But by 1pm everyday, I was maxed out, irritable, and extremely angry. Some down time during the work day, or taking on fewer projects would have helped me avoid that anger. Listen to your brain, your body, and those closest to you. Push yourself as much as you can, but back-off when necessary.
8. Physical Fatigue
Rebuilding a brain must take a lot of energy, because it can leave you very tired. During the first few weeks after my injury, I slept for 12-16 hours a day. I needed 10 hours of sleep per night until about 3 months after my injury. It's normal, and it's giving your brain the time it needs to heal itself.
9. You Will Be Living with an Invisible Injury
It's quite likely that you have some physical injuries associated with whatever caused your TBI. Most of them will heal 6-12 weeks after your accident. Once the casts, splints, and braces are removed, people will stop asking what happened and assume that you are doing well. It's hard to blame them, because there aren't any visual cues telling them something is wrong. Any of us might do the same thing.
Of course, we know that we have an injury and we are healing. Since our injury is invisible to others, there will be times when we seem "off". Maybe it's a word that we can't seem to find, or we are unusually forgetful or irritable. People will make a judgment, because they don't have the whole picture. It's tough to be on the receiving end of those judgments.
10. Accepting the new normal
After a TBI, we can't hit an undo button. This is who we are now. I spent a lot of time worrying at the beginning of my TBI journey because I didn't want to accept this. Once I accepted what was, it made it easier to look at what was in my control and start working with that. My post-TBI life became a re-start opportunity. Reframing the situation didn't make my problems go away, but it did make it easier to face them.
Bonus: Give Yourself Time to Grieve
I nearly forgot to include this. The transition from the "pre-TBI you" to the "new-TBI you" is very real, and it's a lot like mourning your own death. Sounds odd, I admit. However there is a real loss that happens after a TBI. Some of what we might experience includes the loss of cognitive function, the loss of your old personality, of your memories, the loss of physical abilities, the loss of relationships, the loss of employment, to name a few.
Note to the wives, mothers, girlfriends, etc of men who have experienced a TBI. Grieving does not equal crying. Crying can be part of the grieving process, but it doesn't have to be. There are lots of ways to grieve. If your man grieves one way, and you grieve another, that's perfectly normal. What's important is that you support each other in the process, so you can prepare for the journey that is to come.
Note to men: Guys, we're not always great about feelings. We're tough, want to be independent, and have a hard time admitting when something is wrong with us. But this grieving process is important. It helps you process the changes that have happened, face what is, and prepare for the new journey into the future. And I am not telling you to cry. Crying might be part of your grieving (it was for me), but it doesn't have to be. Find what works for you. If you've had a TBI, take the time to grieve what's happened. It will do worlds of good to help you through the recovery process.
The grieving process also applies to those around us: spouses, children, parents, friends, and employers. You can check out this great article from Brainline about about the grieving process after at TBI.
Traumatic brain injury recovery is HARD, and it takes more grit that I thought I had. If someone had shared this information with me at the beginning, it would have really helped me regroup sooner, work smarter, and be more patient with myself.
Is there anything else you would have included on this list? Leave it in the comments below.
If you found this guide useful you can sign up here to get get ideas and support to help with your recovery from TBI. Starting tomorrow, you will receive my 4 part email series where I cover several techniques to help you (or your loved one) with the TBI recovery journey.