Posts Tagged Lower limb exoskeleton
Highlights
A powered ankle exoskeleton with only 348 g of added distal mass.
The exoskeleton reduced the activity of the gastrocnemius muscle by 44%.%
The exoskeleton reduced the activity of the soleus muscle by 37%.%
Abstract
Most of powered ankle exoskeletons add considerable distal mass to the user which limit their capacity in reducing the metabolic energy of walking. The objective of the work presented in this paper is to develop an ankle exoskeleton with a minimum added distal mass compared to existing autonomous powered ankle exoskeletons while it can provide at least 30 Nm of assistive plantarflexion torque. The proposed exoskeleton uses Bowden cables to transmit the mechanical force from the actuation unit attached to the waist to the carbon fiber struts fixed on the boot. As the struts are pulled, they create an assistive ankle plantarflexion torque. A 3d-printed brace was attached to the shin to adjust the direction of the cables. A design optimization study was performed to minimize the mass of the struts, thereby limiting the total added distal mass, attached to the shin and foot, to only 348 g. The main result obtained from walking tests was the reduction of the soleus and gastrocnemius muscles activity by a maximum of 37% and 44% respectively when walking with the exoskeleton compared to normal walking. This result shows the potential of the proposed exoskeleton to reduce the metabolic cost of walking and emphasizes the importance of minimizing the distal mass of ankle exoskeletons. Tests with more subjects will be carried in the future to confirm this result.
via Design and development of a lightweight ankle exoskeleton for human walking augmentation – ScienceDirect
Exoskeleton technology has made significant advances during the last decade, resulting in a considerable variety of solutions for gait assistance and rehabilitation. The mechanical design of these devices is a crucial aspect that affects the efficiency and effectiveness of their interaction with the user. Recent developments have pointed towards compliant mechanisms and structures, due to their promising potential in terms of adaptability, safety, efficiency, and comfort. However, there still remain challenges to be solved before compliant lower limb exoskeletons can be deployed in real scenarios. In this review, we analysed 52 lower limb wearable exoskeletons, focusing on three main aspects of compliance: actuation, structure, and interface attachment components. We highlighted the drawbacks and advantages of the different solutions, and suggested a number of promising research lines. We also created and made available a set of data sheets that contain the technical characteristics of the reviewed devices, with the aim of providing researchers and end-users with an updated overview on the existing solutions.
Robotic wearable exoskeletons1 have potential impact in several application domains, like industry [1], space [2] and healthcare [3]. In the healthcare sector, this technology is expected to contribute by reducing the clinical costs associated with the assistance and rehabilitation of people with neurological and age-related disorders [3, 4, 5, 6]. Research in this area is clearly shifting toward the inclusion of compliant elements (i.e. actuators, structure2, etc.) as a way to overcome the main drawbacks of rigid exoskeletons, in terms of adaptability, comfort, safety and efficiency [7].
Currently, there is a large variety of designs of lower limb compliant exoskeletons aimed at gait rehabilitation or assistance. However, there is a lack of detailed information about the mechanical components of these devices, which has been largely overlooked by previous reviews (e.g. [7, 8, 9]). These variety and lack of information makes it difficult for developers to identify which design choices are most important for a specific application, user's need or pathology. For this reason, we aimed to bring together available literature into a comprehensive review focused on existing lower limb wearable exoskeletons that contain compliant elements in their design.
In this work, we refer to 'compliant exoskeleton' as a system that includes compliant properties derived from non-rigid actuation system and/or structure. Our review focused on three particular aspects: the actuation technology, the structure of the exoskeleton and the interface attachment components3.
We have gathered the mechanical and actuation characteristics of 52 devices into standardized data sheets (available at Additional file 1), to facilitate the process of comparison of the different solutions under a unified and homogeneous perspective. We consider that such a comprehensive summary will be vital to researchers and developers in search for an updated design reference.
Methodology
We applied the following search query on the Scopus database: TITLE-ABS-KEY("actuat*" AND ("complian*" OR "elastic*" OR "soft") AND ("exoskeleton*" OR "rehabilitat*" OR "orthotic*" OR "orthos*" OR ("wearable" AND "robot*")) OR "exosuit" OR "exo-suit"), which returned 1131 studies. We excluded: publications focusing on upper limb robots; non-actuated compliant exoskeletons; solutions where compliance was achieved through control; studies that did not report any mechanical information on the robot; and studies not related to either assistance or rehabilitation. The above process resulted in a total of 105 publications, which covered 52 different lower limb exoskeletons.
To simplify and structure the information, we classified the compliant exoskeletons according to the mechanical component that results in their intrinsic compliant performance: (i) exoskeletons with compliant actuators (i.e. series elastic, variable stiffness and pneumatic actuators) and rigid structure; (ii) exoskeletons with soft structure (soft exoskeletons4) and rigid actuators; (iii) exoskeletons with compliant actuators and soft structure. The review describes the different design choices of the exoskeletons, i.e. actuation system, structure and interfacing attachment components to connect the actuators with the human body.
A glossary with the most commonly used terms in this article has been added at the end of the document. Some definitions have been readapted from the literature.
As shown in Fig. 
1
, 85% of the reviewed articles (corresponding to 44 exoskeletons) used compliant actuators and a rigid structure. Soft exoskeletons represent 11% of the reviewed articles (6 exoskeletons). Two exoskeletons (4%) belong to the intersection of previous groups, this is, exoskeletons integrating both soft structure and compliant actuation
5
. We refer to the latter as "fully compliant exoskeletons".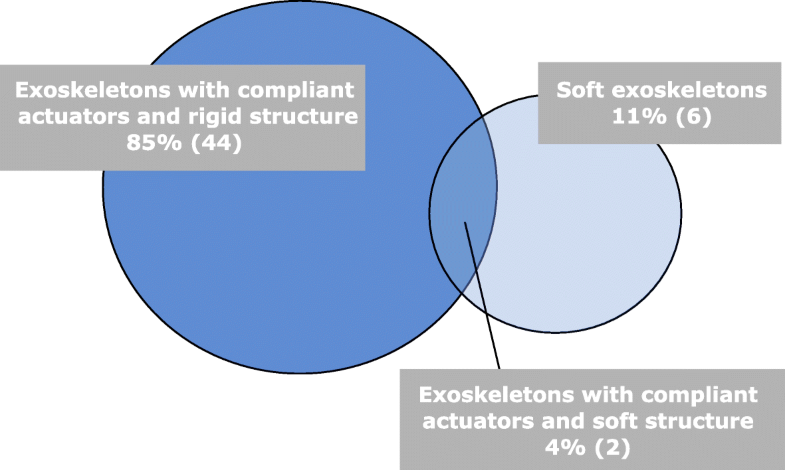 Continue —>  Compliant lower limb exoskeletons: a comprehensive review on mechanical design principles | Journal of NeuroEngineering and Rehabilitation | Full Text
Abstract
Background
Clinical scores for evaluating walking skills with lower limb exoskeletons are often based on a single variable, such as distance walked or speed, even in cases where a host of features are measured. We investigated how to combine multiple features such that the resulting score has high discriminatory power, in particular with few patients. A new score is introduced that allows quantifying the walking ability of patients with spinal cord injury when using a powered exoskeleton.
Methods
Four spinal cord injury patients were trained to walk over ground with the ReWalk™ exoskeleton. Body accelerations during use of the device were recorded by a wearable accelerometer and 4 features to evaluate walking skills were computed. The new score is the Gaussian naïve Bayes surprise, which evaluates patients relative to the features' distribution measured in 7 expert users of the ReWalk™. We compared our score based on all the features with a standard outcome measure, which is based on number of steps only.
Results
All 4 patients improved over the course of training, as their scores trended towards the expert users' scores. The combined score (Gaussian naïve surprise) was considerably more discriminative than the one using only walked distance (steps). At the end of training, 3 out of 4 patients were significantly different from the experts, according to the combined score (p < .001, Wilcoxon Signed-Rank Test). In contrast, all but one patient were scored as experts when number of steps was the only feature.
Conclusion
Integrating multiple features could provide a more robust metric to measure patients' skills while they learn to walk with a robotic exoskeleton. Testing this approach with other features and more subjects remains as future work.
Background
Clinical scores of walking ability are crucial in many areas of physical rehabilitation to assess the efficacy of a therapeutic intervention or an assistive device, as well as to discriminate the ability between different patients [1, 2]. One domain of interest is evaluating functional ambulation in individuals who suffered a spinal cord injury (SCI). Even though many outcome measures target the SCI population [3, 4], currently there exist no specific measures targeting the ability of a patient to use a lower limb robotic exoskeleton to walk overground and achieve functional ambulation.
Lower limb exoskeletons are bilateral powered orthoses designed to provide assistance for sit-to-stand and for walking and, in some cases, to assist lower extremity function in individuals with incomplete or complete SCI [5–8]. Currently, several exoskeletons are transitioning from purely research and rehabilitation devices to personal mobility systems that individuals with SCI could use to walk inside their home and in their communities [9, 10]. A paradigmatic case is the ReWalk™, which has been approved by the Food and Drug Administration to be sold to individuals with SCI as a take-home personal mobility device.
Quantitative clinical assessment of exoskeletons is fundamental to evaluate their safety and effectiveness when used by individuals with disabilities. Specifically, individuals with complete SCI, who aim at taking an exoskeleton home as a personal mobility device, require an intensive training protocol to become independent users. Such training is typically delivered in a clinical setting and therefore clinicians need a robust metric to evaluate if a patient has reached a level of ability and expertise to independently use the device at home and in the community. Obtaining a robust index of the patients' walking skills with an exoskeleton could also be used to inform health insurance companies about the actual improvements in functional mobility for potential reimbursement. This point is crucial as the cost of these devices is extremely high and therefore any support funding has to be justified.
The primary clinical outcome measures currently used to assess functional ambulation with exoskeletons are the 6-Minute-Walk-Test (6MWT) and the Ten-Meter-Walk-Test (10mWT) [11, 12]. These two tests measure, respectively, the distance walked in six minutes and the time to walk over a distance of 10 m, while walking at a constant speed. Despite being validated in spinal cord injury populations [13], it is questionable whether these measures are sufficient to fully evaluate a patient skill and the device efficiency. Indeed, other studies have measured additional features to characterize walking skills with robotic exoskeletons.
Specifically, amongst the features quantified there are: the kinematics of the hip, knee and ankle joints in patients trained to use the ReWalk™ [14], as recorded via a motion capture system; the exertion level based on the heart rate normalized to the walking speed (i.e. physiological cost index) [15] and the oxygen uptake [16, 17]. Other metrics used include the variation in vertical and lateral amplitude of the head motion [18], ground reaction forces analysis [19] and the ability to maintain eye contact to assess cognitive effort [20]. Even when multiple features were measured, each study reports the values of each feature individually to characterize functional ambulation with exoskeletons. Therefore it is unclear how each feature contributes to the overall expertise of a subject. Furthermore, some of the captured features require complex and expensive lab equipment, commonly seen only in large hospitals and university settings.
In the current study, we propose to combine multiple features of walking performance by estimating their probability distribution over a set of expert users who have been previously trained extensively to use the exoskeleton. New participants are then scored based on how well their features fit the experts' probability distribution. Building on this principle, we define a new score to quantify walking ability with exoskeletons: the Gaussian Naïve Bayes surprise. The term surprise is derived from information theory and represents the amount of unexpected information provided by an event [21]. We apply our score to quantify the walking skills of four individuals with complete SCI, as they are trained to use the ReWalk™ exoskeleton. Four features are computed from the trunk accelerations, which are recorded using a commercial wearable accelerometer while subjects perform a 6MWT with the exoskeleton. We estimate the parameters of the features probability distribution from seven expert subjects (1 SCI and 6 able-bodied) that received extensive prior training with the device, and compute the Gaussian naïve Bayes surprise of the four SCI participants with respect to the experts. The score based on all four features is compared with one based only on number of steps (an equivalent of distance walked), in terms of the separation between experts and patients that is yielded by the two indices.
Methods
The ReWalk™ exoskeleton
The ReWalk™ (ReWalk Robotics Inc., Marlborough, MA, USA) is a motorized lower limb exoskeleton suit designed to provide legged mobility to paraplegic patients who suffered a spinal cord injury from level T4 to L5. The device has two actuated degrees of freedom – one at the hip and one at the knee on each side – and has a passive spring-assisted dorsiflexion joint at the ankle. Figure 
1a
shows a schematic of the device.
Continue —> Accelerometry-enabled measurement of walking performance with a robotic exoskeleton: a pilot study | Journal of NeuroEngineering and Rehabilitation | Full Text