Posts Tagged Mechanical compliance
Exoskeleton technology has made significant advances during the last decade, resulting in a considerable variety of solutions for gait assistance and rehabilitation. The mechanical design of these devices is a crucial aspect that affects the efficiency and effectiveness of their interaction with the user. Recent developments have pointed towards compliant mechanisms and structures, due to their promising potential in terms of adaptability, safety, efficiency, and comfort. However, there still remain challenges to be solved before compliant lower limb exoskeletons can be deployed in real scenarios. In this review, we analysed 52 lower limb wearable exoskeletons, focusing on three main aspects of compliance: actuation, structure, and interface attachment components. We highlighted the drawbacks and advantages of the different solutions, and suggested a number of promising research lines. We also created and made available a set of data sheets that contain the technical characteristics of the reviewed devices, with the aim of providing researchers and end-users with an updated overview on the existing solutions.
Robotic wearable exoskeletons1 have potential impact in several application domains, like industry [1], space [2] and healthcare [3]. In the healthcare sector, this technology is expected to contribute by reducing the clinical costs associated with the assistance and rehabilitation of people with neurological and age-related disorders [3, 4, 5, 6]. Research in this area is clearly shifting toward the inclusion of compliant elements (i.e. actuators, structure2, etc.) as a way to overcome the main drawbacks of rigid exoskeletons, in terms of adaptability, comfort, safety and efficiency [7].
Currently, there is a large variety of designs of lower limb compliant exoskeletons aimed at gait rehabilitation or assistance. However, there is a lack of detailed information about the mechanical components of these devices, which has been largely overlooked by previous reviews (e.g. [7, 8, 9]). These variety and lack of information makes it difficult for developers to identify which design choices are most important for a specific application, user's need or pathology. For this reason, we aimed to bring together available literature into a comprehensive review focused on existing lower limb wearable exoskeletons that contain compliant elements in their design.
In this work, we refer to 'compliant exoskeleton' as a system that includes compliant properties derived from non-rigid actuation system and/or structure. Our review focused on three particular aspects: the actuation technology, the structure of the exoskeleton and the interface attachment components3.
We have gathered the mechanical and actuation characteristics of 52 devices into standardized data sheets (available at Additional file 1), to facilitate the process of comparison of the different solutions under a unified and homogeneous perspective. We consider that such a comprehensive summary will be vital to researchers and developers in search for an updated design reference.
Methodology
We applied the following search query on the Scopus database: TITLE-ABS-KEY("actuat*" AND ("complian*" OR "elastic*" OR "soft") AND ("exoskeleton*" OR "rehabilitat*" OR "orthotic*" OR "orthos*" OR ("wearable" AND "robot*")) OR "exosuit" OR "exo-suit"), which returned 1131 studies. We excluded: publications focusing on upper limb robots; non-actuated compliant exoskeletons; solutions where compliance was achieved through control; studies that did not report any mechanical information on the robot; and studies not related to either assistance or rehabilitation. The above process resulted in a total of 105 publications, which covered 52 different lower limb exoskeletons.
To simplify and structure the information, we classified the compliant exoskeletons according to the mechanical component that results in their intrinsic compliant performance: (i) exoskeletons with compliant actuators (i.e. series elastic, variable stiffness and pneumatic actuators) and rigid structure; (ii) exoskeletons with soft structure (soft exoskeletons4) and rigid actuators; (iii) exoskeletons with compliant actuators and soft structure. The review describes the different design choices of the exoskeletons, i.e. actuation system, structure and interfacing attachment components to connect the actuators with the human body.
A glossary with the most commonly used terms in this article has been added at the end of the document. Some definitions have been readapted from the literature.
As shown in Fig. 
1
, 85% of the reviewed articles (corresponding to 44 exoskeletons) used compliant actuators and a rigid structure. Soft exoskeletons represent 11% of the reviewed articles (6 exoskeletons). Two exoskeletons (4%) belong to the intersection of previous groups, this is, exoskeletons integrating both soft structure and compliant actuation
5
. We refer to the latter as "fully compliant exoskeletons".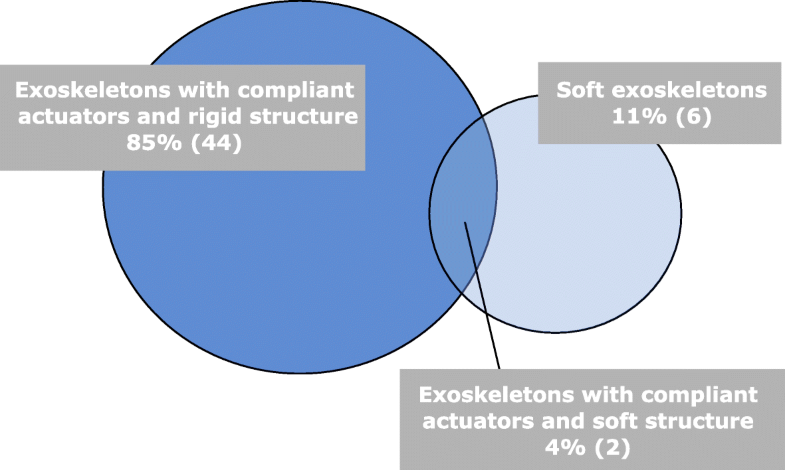 Continue —>  Compliant lower limb exoskeletons: a comprehensive review on mechanical design principles | Journal of NeuroEngineering and Rehabilitation | Full Text