Τraumatic Βrain Ιnjury Rehabilitation
Posts Tagged Metabolic cost
Abstract
Since the early 2000s, researchers have been trying to develop lower-limb exoskeletons that augment human mobility by reducing the metabolic cost of walking and running versus without a device. In 2013, researchers finally broke this 'metabolic cost barrier'. We analyzed the literature through December 2019, and identified 23 studies that demonstrate exoskeleton designs that improved human walking and running economy beyond capable without a device. Here, we reviewed these studies and highlighted key innovations and techniques that enabled these devices to surpass the metabolic cost barrier and steadily improve user walking and running economy from 2013 to nearly 2020. These studies include, physiologically-informed targeting of lower-limb joints; use of off-board actuators to rapidly prototype exoskeleton controllers; mechatronic designs of both active and passive systems; and a renewed focus on human-exoskeleton interface design. Lastly, we highlight emerging trends that we anticipate will further augment wearable-device performance and pose the next grand challenges facing exoskeleton technology for augmenting human mobility.
Background
Exoskeletons to augment human walking and running economy: previous predictions and recent milestones
The day that people move about their communities with the assistance of wearable exoskeletons is fast approaching. A decade ago, Ferris predicted that this day would happen by 2024 [1] and Herr foresaw a future where people using exoskeletons to move on natural terrain would be more common than them driving automobiles on concrete roads [2]. Impressively, Ferris and Herr put forth these visions prior to the field achieving the sought-after goal of developing an exoskeleton that breaks the 'metabolic cost barrier'. That is, a wearable assistive device that alters user limb-joint dynamics, often with the intention of reducing user metabolic cost during natural level-ground walking and running compared to not using a device. When the goal is to reduce effort, metabolic cost is the gold-standard for assessing lower-limb exoskeleton performance since it is an easily attainable, objective measure of effort, and relates closely to overall performance within a given gait mode [3, 4]. For example, reducing 'exoskeleton' mass improves user running economy, and in turn running performance [4]. Further, enhanced walking performance is often related to improved walking economy [3] and quality of life [5, 6]. To augment human walking and running performance, researchers seriously began attempting to break the metabolic cost barrier using exoskeletons in the first decade of this century, shortly after the launch of DARPA's Exoskeletons for Human Performance Augmentation program [7,8,9,10].
It was not until 2013 that an exoskeleton broke the metabolic cost barrier [11]. In that year, Malcolm and colleagues [11] were the first to break the barrier when they developed a tethered active ankle exoskeleton that reduced their participants' metabolic cost during walking (improved walking economy) by 6% (Fig. 1). In the following 2 years, both autonomous active [12] and passive [13] ankle exoskeletons emerged that also improved human walking economy (Fig. 1). Shortly after those milestones, Lee and colleagues [14] broke running's metabolic cost barrier using a tethered active hip exoskeleton that improved participants' running economy by 5% (Fig. 1). Since then, researchers have also developed autonomous active [15, 16] and passive [17, 18] exoskeletons that improve human running economy (Fig. 1).
[…]
Continue —->  The exoskeleton expansion: improving walking and running economy | Journal of NeuroEngineering and Rehabilitation | Full Text
Assistive devices, Augmentation, Economy, Energetic, Exoskeleton, Metabolic cost, run, Walk, wearable robotics
Background
Ankle exoskeletons offer a promising opportunity to offset mechanical deficits after stroke by applying the needed torque at the paretic ankle. Because joint torque is related to gait speed, it is important to consider the user's gait speed when determining the magnitude of assistive joint torque. We developed and tested a novel exoskeleton controller for delivering propulsive assistance which modulates exoskeleton torque magnitude based on both soleus muscle activity and walking speed. The purpose of this research is to assess the impact of the resulting exoskeleton assistance on post-stroke walking performance across a range of walking speeds.
Methods
Six participants with stroke walked with and without assistance applied to a powered ankle exoskeleton on the paretic limb. Walking speed started at 60% of their comfortable overground speed and was increased each minute (n00, n01, n02, etc.). We measured lower limb joint and limb powers, metabolic cost of transport, paretic and non-paretic limb propulsion, and trailing limb angle.
Results
Exoskeleton assistance increased with walking speed, verifying the speed-adaptive nature of the controller. Both paretic ankle joint power and total limb power increased significantly with exoskeleton assistance at six walking speeds (n00, n01, n02, n03, n04, n05). Despite these joint- and limb-level benefits associated with exoskeleton assistance, no subject averaged metabolic benefits were evident when compared to the unassisted condition. Both paretic trailing limb angle and integrated anterior paretic ground reaction forces were reduced with assistance applied as compared to no assistance at four speeds (n00, n01, n02, n03).
Conclusions
Our results suggest that despite appropriate scaling of ankle assistance by the exoskeleton controller, suboptimal limb posture limited the conversion of exoskeleton assistance into forward propulsion. Future studies could include biofeedback or verbal cues to guide users into limb configurations that encourage the conversion of mechanical power at the ankle to forward propulsion.
Walking after a stroke is more metabolically expensive, leading to rapid exhaustion, limited mobility, and reduced physical activity [1]. Hemiparetic walking is slow and asymmetric compared to unimpaired gait. Preferred walking speeds following stroke range between < 0.2 m s− 1 and ~ 0.8 m s− 1 [2] compared to ~ 1.4 m s− 1 in unimpaired adults, and large interlimb asymmetry has been documented in ankle joint power output [3, 4]. The ankle plantarflexors are responsible for up to 50% of the total positive work needed to maintain forward gait [5, 6]; therefore, weakness of the paretic plantarflexors is especially debilitating, and as a result, the paretic ankle is often a specific target of stroke rehabilitation [7, 8, 9, 10]. In recent years, ankle exoskeletons have emerged as a technology capable of improving ankle power output by applying torque at the ankle joint during walking in clinical populations [7, 8] and healthy controls [11, 12, 13, 14]. Myoelectric exoskeletons offer a user-controlled approach to stroke rehabilitation by measuring and adapting to changes in the user's soleus electromyography (EMG) when generating torque profiles applied at the ankle [15]. For example, a proportional myoelectric ankle exoskeleton was shown to increase the paretic plantarflexion moment for persons post-stroke walking at 75% of their comfortable overground (OVG) speed [8]; despite these improvements, assistance did not reduce the metabolic cost of walking or improve percent paretic propulsion. The authors suggested exoskeleton performance could be limited because the walking speed was restricted to a pace at which exoskeleton assistance was not needed.
Exoskeleton design for improved function following a stroke would benefit from understanding the interaction among exoskeleton assistance, changes in walking speed, and measured walking performance. Increases in walking speed post-stroke are associated with improvements in forward propulsion and propulsion symmetry [16], trailing limb posture [17, 18], step length symmetries [17, 19], and greater walking economies [17, 19]. This suggests that assistive technologies need to account for variability in walking speeds to further improve post-stroke walking outcomes. However, research to date has evaluated exoskeleton performance at only one walking speed, typically set to either the participant's comfortable OVG speed or a speed below this value [7, 8]. At constant speeds, ankle exoskeletons have been shown to improve total ankle power in both healthy controls [11] and persons post-stroke [8], suggesting the joint powers and joint power symmetries could be improved by exoskeleton technology. Additionally, an exosuit applying assistance to the ankle was able to improve paretic propulsion and metabolic cost in persons post-stroke walking at their comfortable OVG speed [7]. Assessing the impact of exoskeleton assistance on walking performance across a range of speeds is the next logical step toward developing exoskeleton intervention strategies targeted at improving walking performance and quality of life for millions of persons post-stroke.
In order to assess the impact of exoskeleton assistance across a range of walking speeds in persons post-stroke, we developed a novel, speed-adaptive exoskeleton controller that automatically modulates the magnitude of ankle torque with changes in walking speed and soleus EMG. We hypothesized that: 1) Our novel speed-adaptive controller will scale exoskeleton assistance with increases in walking speed as intended. 2) Exoskeleton assistance will lead to increases in total average net paretic ankle power and limb power at all walking speeds. 3) Exoskeleton assistance will lead to metabolic benefits associated with improved paretic average net ankle and limb powers.
Exoskeleton hardware
We implemented an exoskeleton emulator comprised of a powerful off-board actuation and control system, a flexible Bowden cable transmission, and a lightweight exoskeleton end effector [20]. The exoskeleton end effector includes shank and foot carbon fiber components custom fitted to participants and hinged at the ankle. The desired exoskeleton torque profile was applied by a benchtop motor (Baldor Electric Co, USA) to the carbon-fiber ankle exoskeleton through a Bowden-cable transmission system. An inline tensile load cell (DCE-2500 N, LCM Systems, Newport, UK) was used to confirm the force transmitted by the exoskeleton emulator during exoskeleton assistance.
Speed-adaptive proportional myoelectric exoskeleton controller
Our exoskeleton controller alters the timing and magnitude of assistance with the user's soleus EMG signal and walking speed (Fig. 
1
). The exoskeleton torque is determined from Eq. 
1
, in which participant mass (m
participant
) is constant across speeds, treadmill speed (V) is measured in real-time, the speed gain (G
speed
) is constant for all subjects and across speeds, the adaptive gain (G
adp
) is constant for a gait cycle and calculated anew for each gait cycle, and the force-gated and normalized EMG (EMG
GRFgated
) is a continuously changing variable.
τ
e
x
o
(
t
)
=
m
p
a
r
t
i
c
i
p
a
n
t
×
V
×
G
s
p
e
e
d
×
G
a
d
p
×
E
M
G
G
R
F
g
a
t
e
d
τexo (t)=mparticipant×V×Gspeed×Gadp×EMGGRFgated
(1)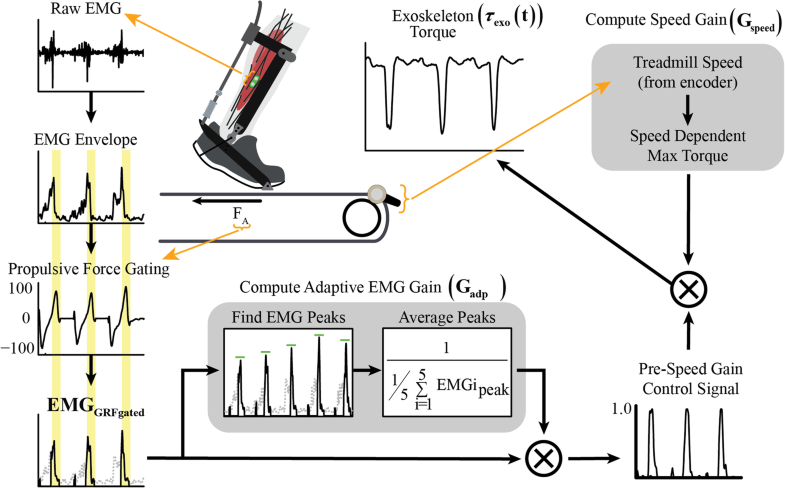 […]
Continue —> Mechanics and energetics of post-stroke walking aided by a powered ankle exoskeleton with speed-adaptive myoelectric control | Journal of NeuroEngineering and Rehabilitation | Full Text
Ankle mechanics, Electromyography, Exoskeleton, hemiparesis, Metabolic cost, myoelectric control, paretic, propulsion, stroke rehabilitation, Trailing limb angle, walking