Posts Tagged Shape memory alloys
Abstract
Control of a exoskeleton with different sensors using a microcontroller and Matlab: This project will be used the exoskeleton for wrist rehabilitation and evaluation designed in the RoboticsLab. This device is actuated with SMA (Shape Memory Alloys) wires and it has two DOF. The objectives of the work will be: to integrate position and pressure sensors into the exoskeleton; to use the information of these sensors to control in position and / or strength the exoskeleton in repetitive tasks for the flexion-extension movement of the wrist; collect data on the execution of the task that could be used by the doctor to evaluate the patient's progression.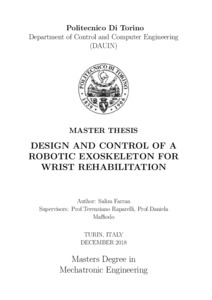 via DESIGN AND CONTROL OF A ROBOTIC EXOSKELETON FOR WRIST REHABILITATION – Webthesis
Abstract
Shape memory alloys (SMAs) are a very promising class of metallic materials that display interesting nonlinear properties, such as pseudoelasticity (PE), shape memory effect (SME) and damping capacity, due to high mechanical hysteresis and internal friction. Our group has applied SMA in the field of neuromuscular rehabilitation, designing some new devices based on the mentioned SMA properties: in particular, a new type of orthosis for spastic limb repositioning, which allows residual voluntary movement of the impaired limb and has no predetermined final target position, but follows and supports muscular elongation in a dynamic and compliant way. Considering patients in the sub-acute phase after a neurological lesion, and possibly bedridden, the paper presents a mobiliser for the ankle joint, which is designed exploiting the SME to provide passive exercise to the paretic lower limb. Two different SMA-based applications in the field of neuroscience are then presented, a guide and a limb mobiliser specially designed to be compatible with diagnostic instrumentations that impose rigid constraints in terms of electromagnetic compatibility and noise distortion. Finally, the paper discusses possible uses of these materials in the treatment of movement disorders, such as dystonia or hyperkinesia, where their dynamic characteristics can be advantageous.
Full Text HTML —> JFB | Free Full-Text | Applications of Shape Memory Alloys for Neurology and Neuromuscular Rehabilitation | HTML.