Posts Tagged SMA
Abstract
Control of a exoskeleton with different sensors using a microcontroller and Matlab: This project will be used the exoskeleton for wrist rehabilitation and evaluation designed in the RoboticsLab. This device is actuated with SMA (Shape Memory Alloys) wires and it has two DOF. The objectives of the work will be: to integrate position and pressure sensors into the exoskeleton; to use the information of these sensors to control in position and / or strength the exoskeleton in repetitive tasks for the flexion-extension movement of the wrist; collect data on the execution of the task that could be used by the doctor to evaluate the patient's progression.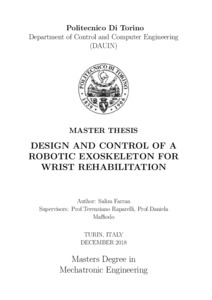 via DESIGN AND CONTROL OF A ROBOTIC EXOSKELETON FOR WRIST REHABILITATION – Webthesis
Abstract
OBJECTIVE
The supplementary motor area (SMA) syndrome is a well-studied lesional model of brain plasticity involving the sensorimotor network. Patients with diffuse low-grade gliomas in the SMA may exhibit this syndrome after resective surgery. They experience a temporary loss of motor function, which completely resolves within 3 months. The authors used functional MRI (fMRI) resting state analysis of the sensorimotor network to investigate large-scale brain plasticity between the immediate postoperative period and 3 months' follow-up.
METHODS
Resting state fMRI was performed preoperatively, during the immediate postoperative period, and 3 months postoperatively in 6 patients with diffuse low-grade gliomas who underwent partial surgical excision of the SMA. Correlation analysis within the sensorimotor network was carried out on those 3 time points to study modifications of its functional connectivity.
RESULTS
The results showed a large-scale reorganization of the sensorimotor network. Interhemispheric connectivity was decreased in the postoperative period, and increased again during the recovery process. Connectivity between the lesion side motor area and the contralateral SMA rose to higher values than in the preoperative period. Intrahemispheric connectivity was decreased during the immediate postoperative period and had returned to preoperative values at 3 months after surgery.
Abstract
Background: Robots offer an alternative, potentially advantageous method of providing repetitive, high-dosage, and high-intensity training to address the gait impairments caused by stroke. In this study, we compared the effects of the Stride Management Assist (SMA®) System, a new wearable robotic device developed by Honda R&D Corporation, Japan, with functional task specific training (FTST) on spatiotemporal gait parameters in stroke survivors.
Methods: A single blinded randomized control trial was performed to assess the effect of FTST and task-specific walking training with the SMA® device on spatiotemporal gait parameters. Participants (n = 50) were randomly assigned to FTST or SMA. Subjects in both groups received training 3 times per week for 6–8 weeks for a maximum of 18 training sessions. The GAITRite® system was used to collect data on subjects' spatiotemporal gait characteristics before training (baseline), at mid-training, post-training, and at a 3-month follow-up.
Results: After training, significant improvements in gait parameters were observed in both training groups compared to baseline, including an increase in velocity and cadence, a decrease in swing time on the impaired side, a decrease in double support time, an increase in stride length on impaired and non-impaired sides, and an increase in step length on impaired and non-impaired sides. No significant differences were observed between training groups; except for SMA group, step length on the impaired side increased significantly during self-selected walking speed trials and spatial asymmetry decreased significantly during fast-velocity walking trials.
Conclusions: SMA and FTST interventions provided similar, significant improvements in spatiotemporal gait parameters; however, the SMA group showed additional improvements across more parameters at various time points. These results indicate that the SMA® device could be a useful therapeutic tool to improve spatiotemporal parameters and contribute to improved functional mobility in stroke survivors. Further research is needed to determine the feasibility of using this device in a home setting vs a clinic setting, and whether such home use provides continued benefits.
Full Text —> JNER | Full text | Effects of a wearable exoskeleton stride management assist system (SMA®) on spatiotemporal gait characteristics in individuals after stroke: a randomized controlled trial.